Domestic, Industrial, Manufacture, Install, Repair
24 Hour Line. Speak Directly to Us
Garage Roller Door Installation/Repair | London
Robust protection for garages
Garage Roller Door Installation/Repair | London
Robust protection for garages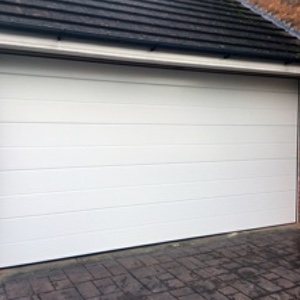 It's tempting not to worry too much about securing a garage, because your car has anti-theft protection fitted. But that would be wrong, for several reasons. Firstly, a garage often has a door into the house. Once in the garage an intruder has time to attack the house door unobserved.
Secondly, a garage is often used to do more than keep your car clean and dry. There maybe tools, garden machinery, bicycles, a freezer and its contents, sports equipment, motor scooters, wine, barbecues or outdoor furniture stored there too.
And thirdly, a garage is often more than a garage nowadays. Many function as a home gym, or an office, with valuable equipment - and maybe data - that needs protecting.
Our garage shutters, remote controlled or key operated, are ideal. Manufactured to fit exactly, they run in strong steel side channels, feature reinforced bottom bars, and robust individual sections designed to dissuade attack.
Home protection for doors, French windows, garages
Secure Roller Doors
It's the large openings in your home that are the most vulnerable - it's easier to get in and out through a door, a French window, or a garage and it's more difficult, normally, to secure them. We have the answer.
Our roller doors are ideal. Manufactured to fit exactly, they run in strong steel side channels, feature reinforced bottom bars, and robust individual sections designed to deter and repel attack.
But not at the cost of aesthetics. West London Security Centre, we pay as much attention to making our roller doors look good as we do to making them tough and tenacious.
Available with remote control and/or key opening, they provide essential security and peace of mind for you and your family.
Shutters. Grilles. Gates. Visual Deterrence. Physical Protection.
Get in touch
Family Run
West London Security is a family run business established over 25 years ago.
We Design & Manufacture shutters and gates in our own London based factory.
Customer Comments
We've used West London Security since 2007, and we've always found them to be responsive, expert and reliable. This week they fixed our old malfunctioning 'dead bolt' door lock, replacing the pins, drivers and springs. A few months ago they replaced our worn out 'Ingersoll-style' lock. And they also helped our neighbour who got locked out. We highly recommend them – a professional local service.
Brentford
I'm a property manager and have been using West London Security Centre for many years. There are 2 locksmiths less than 5 minutes walk from our agency but I get in the car and go to West London Security Centre because I never have any trouble with keys not working by going there. They also have all sorts of unusual keys that you can't get cut in other places and they can cut many older style Banhams and other 'high security' keys that's saves me having to go elsewhere. I have always found Harry to be polite and knowledgeable and he has saved me money before by offering alternatives to what I've had in mind.
Earls Court
Just wanted to mention the excellent service I just received from Harry at West London Security Centre, who was very helpful and patient, when I rang with a query regarding a home security issue. Issue resolved - much appreciated!
Golders Green
I was at a funeral fours hours' drive away and my teenage children were stuck outside in freezing temperatures with a broken key in the mortice lock! We rang West London Security and they arrived really quickly and managed to get into the house equally quickly despite it not being a straightforward task. They are returning to fix a new lock today. Really great service!
Hammersmith
Speak to our Experts
Call us today for expert advice - 020 8748 8222
Emergency Call Out, Locksmith Services, Gate Repairs to the Greater London Area, including
Acton, Battersea, Brentford, Chelsea, Chiswick, Cricklewood, Ealing, Earls Court, Fulham, Golders Green, Ham, Hammersmith, Hampstead, Hanwell, Isleworth, Kensington, Kentish Town , Maida Hill, North Kensington, North Western, Notting Hill, Paddington, Putney, Richmond, Shepherds Bush, South Kensington, St John's Wood, Teddington, Twickenham, Wandsworth, West Brompton, West Ealing, West Kensington
Manufactured in our Factory
At West London Security Centre , we've 25 years experience in making property safer and more secure using the very best security products, many custom-made in our own factory. We combine physical security with hard-won knowledge of the threats that you face to offer you a customised security solution.
Contact Us
West London Security Centre
1 The Ham
Brentford
TW8 8EZ
United Kingdom