Domestic, Industrial, Manufacture, Install, Repair
24 Hour Line. Speak Directly to Us
Electric Garage Doors
Installation on new and existing garage doors
Electric Garage Doors
West London Security Centre are qualified to install automation to new and existing garage doors.
Why not control your gates and garage from the same remote control?!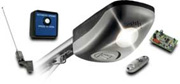 The 'VER' garage door operator is a comprehensive package of CAME equipment designed to automate new or existing horizontally tracked garage doors, which are the up and over type of door. It can automate doors from 1.8 m wide to 6m wide (6' to 18'). The principle of the 'VER' is a rigid "C" section steel shaft containing a strong carrying chain which is connected by a bent "banana" arm to the centre point at the top of the door. This provides a powerful yet smooth operation to the balanced door.
It has a quiet 24 volt motor with an electronic control panel and limit switches. The limit switches not only cut off the motor at the top and the bottom, but also decelerate the door when it reaches its final few inches of closure.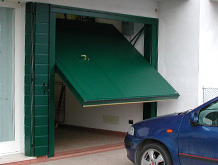 It has power sensitivity with an intelligent method of sensing an obstruction in the path of the door and can also accommodate extra infra-red safety beams if desired.
It has an integral light on a timer providing a small courtesy light within the garage as the door is operated. There is also a manual release mechanism, so that in the event of a power cut the door can be operated manually.
As well as operating horizontally tracked and sectional up and over doors, we have a version of the 'VER' that can open and close outward opening, swing type garage doors, called the 'VER-Y'. At an additional cost to the basic 'VER' the 'VER-Y' provides a successful method of opening the traditional type of swing door to 90 degrees, with an efficient metal rod system attached to the higher level of both swing doors.
Contact us today » for your no obligation onsite survey or quotation
Get in touch
Customer Comments
excellent service..kept me updated...advised on the situation...rectified. thank you Harry
Hampstead
Really impressed with the service provided by West London Security Centre. I received excellent advice from Harry in the shop - informative and professional, without being pushy. He came to fit our new lock personally, arriving on time, with excellent workmanship - he ensured everything worked smoothly and the door fit was exact. We'll definitely use them again - to be recommended!
Ealing
I'm a property manager and have been using West London Security Centre for many years. There are 2 locksmiths less than 5 minutes walk from our agency but I get in the car and go to West London Security Centre because I never have any trouble with keys not working by going there. They also have all sorts of unusual keys that you can't get cut in other places and they can cut many older style Banhams and other 'high security' keys that's saves me having to go elsewhere. I have always found Harry to be polite and knowledgeable and he has saved me money before by offering alternatives to what I've had in mind.
Earls Court
I called this company in an absolute panic as my car was stuck inside my parents driveway gates and I had to get to the airport, to catch a flight. I spoke to a very charming young man on the phone, who informed me due to where I was and where their operatives were, they could not get to me quick enough. He then went on to, to ask me to send some pictures of the gates to him, as he should be able to talk me through opening them manually myself. Within two minutes of me sending the pictures, I was called straight back and spoken through opening them and locking them behind me, so my parents home was still safe. When I offered some form of payment, this was declined and I was told to have a nice holiday. Needless to say I made my flight. Thank you so much
Isleworth
Speak to our Experts
Call us today for expert advice - 020 8748 8222
Emergency Call Out, Locksmith Services, Gate Repairs to the Greater London Area, including
Acton, Battersea, Brentford, Chelsea, Chiswick, Cricklewood, Ealing, Earls Court, Fulham, Golders Green, Ham, Hammersmith, Hampstead, Hanwell, Isleworth, Kensington, Kentish Town , Maida Hill, North Kensington, North Western, Notting Hill, Paddington, Putney, Richmond, Shepherds Bush, South Kensington, St John's Wood, Teddington, Twickenham, Wandsworth, West Brompton, West Ealing, West Kensington
Manufactured in our Factory
At West London Security Centre , we've 25 years experience in making property safer and more secure using the very best security products, many custom-made in our own factory. We combine physical security with hard-won knowledge of the threats that you face to offer you a customised security solution.
Contact Us
West London Security Centre
1 The Ham
Brentford
TW8 8EZ
United Kingdom